Trips in Alabama, Arkansas, Florida, Georgia, Kentucky, Louisiana, Mississippi, North Carolina, South Carolina, Tennessee , and Virginia.
Click on a red flag to find a trip | See all trips | Travel facts | Back to the United States

The Southeast: The Bucket List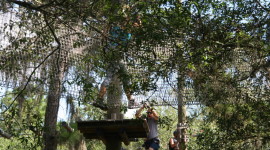 That moment when you realize you will be hooking up your own harness hardware (sans supervision) to the 650-foot TreeUmphant! zip line that is the grand finale to the new aerial base camp experience outside of Bradenton, Florida. Or when you realize that despite all training, you are coming into ...
Read More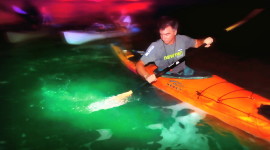 The hulking, witchy-armed mangroves engulfed me in such solitude and deep darkness that I had the fleeting thought I should be apprehensive  -- out there in a solo kayak in the middle of the night with no one else in sight. But the magical liquid light show around me immersed ...
Read More
Streams of lights fall like incandescent snowflakes, characters of children's books and cartoons hang from small-scale hot-air balloons and parachutes. Only Santa can bring more excitement at the Opryland Hotel! You might not deck your halls before December, but Opryland does. It takes months to hang 180 miles of strings with ...
Read More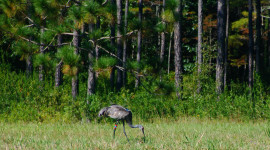 On our way to visit Biloxi, Mississippi, we noticed two sandhill cranes standing in the median of Interstate 10. As Floridians, we see sandhill cranes a lot, so we didn't think much about it until we picked up a birding brochure later in the day. With only 110 Mississippi Sandhill ...
Read More
The Southeast: Travel Facts
Note: The information below excludes Florida. Florida is such a big tourist destination it has its own section on BucketTripper.com
Main International Airports: Washington-Dulles (in Virginia). Atlanta (GA), New Orleans (LA), Charlotte (NC). Others: Nashville (TN), Raleigh-Durham (NC), Memphis (TN), Ronald Reagan (Washington D.C.).
Currency: U.S. dollars.
Population: 60,000,000.
Capitals: Richmond, VA. Charleson, WV. Frankfort, KY. Nashville, TN. Raleigh, NC. Columbia SC. Atlanta, GA. Jackson, MS. Baton Rouge, LA. Little Rock, AR. Montgomery, AL.
Climate: Warm temperate: Very hot humid summers (unpleasant for outdoor activities); mild winters. Colder at high elevations of Appalachian Mountains.
Languages: English.
More facts: U.S. immigration and tourism visas are explained by the U.S. Department of State.
Time zone: Standard time for most of the Southeast is UTC – 5. Alabama, Mississippi, Louisiana, Arkansas, and parts of Florida, Tennessee, and Kentucky are UTC – 6. See World Clock for seasonal adjustments.