It's a little over a one-hour flight south from Ulaanbaatar to Dalanzadgad, the gateway to the Gobi Desert. For centuries, nomadic tribes, along with their goats, chickens and gers (foldable circular tents or yurts) roamed this desert by foot, horse or camel. I do the same in an air-conditioned four-wheel-drive van.
The Gobi is mostly a land of wide open spaces, big sky and mountains in the far distance. No roads. The 4WD vans spew dust clouds in their wake. After driving about an hour on this flat, endless lunar landscape, it seemed like we were indeed we were indeed on the road to nowhere.
In Your Bucket Because…
You are enchanted with the desert. Its serenity and wide open spaces delight you.
You want to experience Mongolian nomadic life.
You like undiscovered places and this one is pretty much untouched by tourism.
Good for: adventurers, desert lovers, and travelers who can live without a Hilton.
Sleeping in a ger (yurt)
Accommodations are in gers. Every night we stay at another one, some a little nicer than others. All have low doorframes which make it necessary to stoop when entering. Sleeping in one is an adventure.
If you are looking for a cushy destination, this is not your place. Forget luxuries like running water, private bathrooms or 24-hour electricity. Bu, the interiors are bright, clean and cheerful with beds, very hard pillows, stools, a desk, sometimes a wood stove and usually a light bulb hanging from the top. More upscale gers might have a lamp. Bathrooms are somewhere down a path. So are the showers, which do not always spray warm water. But there is something charming about being in the desert and living like the nomads have done for centuries. Well almost. The 4WD cars have replaced the Bactrian (two-humped) camels for transportation.
Everyone eats at the camps. There are no restaurants along the way. Food is very basic. It's whatever is being made that day. Usually it is toast and eggs for breakfast and some soup, chicken or lamb for lunch. Dinner is not much different from lunch. Though few speak English, the drivers and the people at the camp are friendly.
Roaming the Desert
Many of our Gobi days are spent wandering in the desert like the nomads. Along the way, camels and horses graze while tribesman keep watch. We stop at wells where flocks of sheep, goats and kids — both the animal and the human ones — cluster and roam.
Another bit of wandering takes the group to Khongoryn Els. One-hundred-foot high and forty -foot wide sand dunes loom for about 60 miles alongside us. It is like something out of "Lawrence of Arabia." When the sand at the top of these "Singing Sands" shift from the winds, they make a haunting sound. Some brave souls try to climb to the peaks to hear them. It is one step up and two slides back. Camels will take others to the top.
I was sick when the group went, so I visit the dunes the next morning, at 6 a.m. The sun is just rising, the winds are still, and the silence is deafening; the effect is magical. The camels are still sleeping. I would pass on the camel ride anyway. Done that. They are not my favorite mode of transportation.
Amid the Red Rocks

A bumpy ride takes us to Khongor Sand Dune Camp for our last night. We are rewarded with upscale Gobi living – fluffy towels, warm showers and round-the clock electricity. There is even entertainment — a movie about American paleontologist, Roy Chapman Andrews. In 1928, he discovered dinosaur eggs and bones at Bayanzag. He renamed the area the "Flaming Cliffs."
They flame like the red rocks of Utah or Northern Arizona. Stillness abounds, and as I roam up, down and around these glowing hills, I get a feeling of peace.
The serene tranquility and simple life of Mongolian nomads could change with tourism. That's an incentive to go now and see its unspoiled beauty.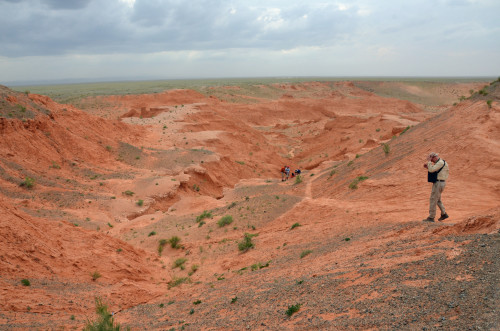 Practicalities
It gets cold in the desert at night.
Wear good walking shoes.
Bring your own pillow.
You have to be on your toes if you want to charge your electronics. Many times that is done in the dining room which isn't open all the time.
Few people speak English and those that do are sometimes hard to understand.