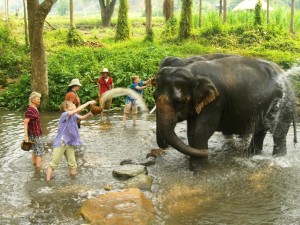 Welcome to the Buckettripper Blog. It's been just about 10 months since BucketTripper opened its doors to the public, and in that time, we've had quite a ride around the Internet and around the world.
We now have 40 professional writers contributing to the site, and we've just topped 400 articles, plus another 100 or so pages. We've been to all seven continents. Google Analytics tells us we've been read in 188 countries and reached more than 100,000 readers. We've set a goal of reaching every country in the world, and visiting every UNESCO World Heritage Site.
We've gone on safari in Africa, dived with sharks in the South Pacific, perused libraries and museums, marveled at ancient ruins, paid respects at Christian, Buddhist, Jewish, Hindu, and Muslim religious shrines,learned to zipline and stand-up paddleboard, and done hundreds of other trips of a lifetime.

We've also been recognized in the industry. BucketTripper received five honors in the recent North American Travel Journalists Association awards.
We garnered a silver award, two bronzes, and a finalist mention for individual articles:
We also got a finalist nod for "Best Travel Journalism Website."
We could not have been more thrilled to take our place among colleagues writing for National Geographic Traveler, National Geographic Adventure, Smithsonian, Travel & Leisure. and online heavyweights like the Perceptive Traveler and The Vacation Gals — after just 6 months in the biz!
We're introducing this blog to start a dialogue between our writers, and readers. We're including photography and multi-media to give you even more of a sense of the places we've been writing about, as well as mini-essays about the various vagaries of the world of travel. And we hope you'll chime in in the comments section.