Standing in the middle of a corral filled with Icelanders herding sheep this way and that, I notice that the colors of the sheep are the same as the colors of the sweaters worn by men, women, and children. The journey from sheep's back to shepherd's back is a short one, here. The black, brown, tan, and white wool of the sheep is first shorn then spun then finally knit into geometric swirls and patterns — the same ones that are seen in the tourist shops in Reykavik, in Vik, and at the airport.
This may seem quite ordinary, but when we're talking about popular souvenirs, it is anything but. Think for a moment: When you buy amber in the Baltic or wooden masks in Africa or bagpipes in Scotland, do you expect to see people walking down the street draped in amber or wearing tribal masks or playing bagpipes? This isn't to say that culturally appropriate souvenirs the world over aren't traditional, or used — but they rarely seem so firmly a part of the fabric of everyday life as they do here in Iceland.
Icelandic Wool
Sheep are part of the backbone of Iceland's rural economy, and the wool from them is used to make the traditional  lopapeysa, sweaters that are found everyone, on tourists and residents alike. Warm, thick, water repellent, and only slightly scratchy, these sweaters are exactly what you want to be wearing if you are spending a day in the autumn rain wrestling sheep and riding horses.
Icelandic sweaters used to be cheap, but that's a thing of the past. These days, a hand knit sweater can set you back between $100 and $300, depending on the work and design. Sweaters for children are more affordable (and make wonderful gifts); you can also pick up hats, gloves, socks, and blankets. The traditional heavy pullovers are what the locals wear on the farms, but in Rekjavik, you can find more arty and trendy designs, more suitable for a city lifestyle.
Cold Weather Gear
"There's no such thing as bad weather," a guide named Siggy told me on blustery day when the rain was falling sideways and the wind rolled through a canyon with the force of a freight train. "Only bad clothing." It's a lesson I know all too well. Icelandic winters arrive in late September and stick around till May; these people know from cold. Also wind, rain, snow, and sleet.
The brands 66 North, IceWear, and Cintamani come from Icelandic companies that make all manner of outdoor equipment from soft-shell jackets to full-on mountaineering parkas. 66 North is pricey, but it has earned a fierce loyalty both here and in mainland Europe, and many of my guides swore by it. Cintamani started by making clothing for polar and Himalayan expeditions; it's now an upscale brand that has stretched to include sweaters and accessories. IceWear is more affordable, and is also well-made and functional; I scored with a soft-shell jacket that has since become one of my core pieces of gear for three season use..
Jewelry
Iceland is something of a design hotbed, its Scandinavian fundamentals made more interesting with a touch of unique whimsy. Along the Reykjavik shopping boulevard of Laugevegur, you'll see a mixture of shops, some (stuffed puffins and Viking kitch) geared to tourists, and others (high end furniture, current clothing, and kitchen wear) catering to anyone with the krona to pay for it.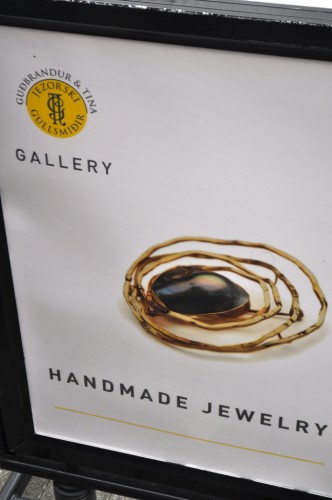 For tourists, jewelry is a good choice: Easily protable and unique. Jewelry made of volcani lava is popular. For a treat, step in at the Guðbrandur and Tina gallery: They make stunning pieces by hand, incorporating gold and silver in work with lava, granite, beads, and other elements, many of them originating in Iceland.
Favorite Souvenirs
By far the biggest tourist souvenirs are stuffed puffins; so-called "puffin shops" are ubiquitous. Close behind are Nordic and Viking memorabilia (trolls, Norse gods, and various sorts of imitation weaponry seem to be popular). Some shops have interesting hand-made souvenirs of puffins and trolls, sometime handcarved, and sometimes made of lava rock.
Another option that will bring back memories: Books and photographs. Iceland is nothing if not photogenic, with an exaggerated landscape that begs to be taken home in the form of a coffee-table books or art photographs.

Liquor
Endemic to Iceland is Brennivin, a liquor that comes in a distinctive green bottle and goes by the nickname "black death." It's available t the duty free  shops at Keflavik.
iceland also producces vodka and now exports Reyka vodka, but it's not available everywhere in the US. It's much cheaper in the duty free shops, so wait till the airport to snag a bottle.
Spa Products
Or you can bring home some mud. Yes, Iceland packages the bluish gray volcanic mud from the Blue Lagoon and sells it as a healing elixir. You can pick up a bottle at the Blue Lagoon, in Reykjavik, or at the airport.

Practicalities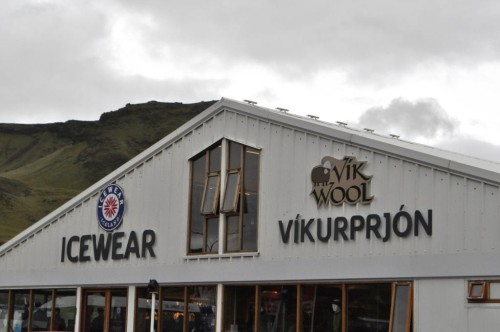 If you're headed to the east coast, don't buy IceWear or Icelandic sweaters until you check out the prices at the outlet store in Vik. (You'll see it from the Ring Road).  In addition to low base prices, there are sales that knock even more off the price. Iceland is an expensive country, but this is one place I actually got a deal that could be called "good" in any currency.
66North  and Cintamani have boutiques in Rejyjaik as well as elsewhere (66 north in Keflavík, Akureyri, Garðabær and Kópavogur; Cintamani in Kópavogur and Garðabær.
Iceland uses krona, and there are a lot of them to the dollar, so be sure your math skills are up to bar or use a currency converter. I almost bought a piece of jewelry that I thought was $300. I was off by a zero in the wrong direction. Close call there.
Make sure to get the VAT tax rebate form; you'll save up to 20 percent when you present your form and purchased items at the airport.
The main shopping streets in Reykjavík are Laugavegur and Skólavörðustígur. The Kringlan and Smáralind Shopping Centers also have a wide variety stores selling clothing, accessories, design products, books, jewelry and souvenirs.