Everywhere I look, I see the contents of my childhood living room. My father was a Czech immigrant, a refugee from the communist years, and our home was a shrine to Czech traditions: Painted pottery, crystal, garnets, costumed dolls, and finely handpainted hollowed-out Easter eggs. I don't speak the language, and I've never been here before, but everything is familiar.
Of course, Prague's Old Town, filled with windy streets shadowed by Baroque castles and churches, is cluttered with souvenir stores selling the usual Central European tourist kitsch. But I will bypass the beer mugs, T-shirts, and postcard strips: I'm interested in nostalgia: in the unique gifts and souvenirs I remember from childhood.
In Your Bucket Because…

Prague's historic center, built between the 11th and 18th centuries, displays its great architectural and cultural achievements, many of which — for example, Hradcani Castle, St. Vitus Cathedral, and Charles  – were built in the 14th century under the Holy Roman Emperor, Charles IV.
The authentic souvenirs here include some items unique to this small but culturally rich country.
Good for history lovers and lovers of shiny pretty gifts.
Garnet Jewelry and Crystal: Treasures Fit for a Czar  
Garnets are a sort of "national gemstone" of the Czech Republic. The deep red semi-precious stones are relatively inexpensive (compared, that is, to rubies and diamonds) but are valued for their deep color, their refractive qualities, and their supposed curative powers. Bohemian garnets are only found in Bohemia, and have been worn by czars, princes, and emperors for centuries. You'll find garnets all over Prague, but if you want to make a major purchase, check out jewelry-maker Granat Turnov, one of the leading names, where custom-made pieces can be set in sterling silver, gold-plated silver, or gold.
Along with the garnets, and in fine counterpoint to it, is the internationally renowned Czech crystal, which is made into goblets, plates and dishes, bowls, decorative objects, and beads. Factory visits are possible at the  Moser Glass Factory in Karlovy; Moser pioneered the development of a non-leaded crystal that is ecologically more friendly and avoids the problems associated with lead. They specialize in glass products for the luxury market. The leaded tradition is represented by Rucki Crystal, a family business going back 300 years, The Rucki Glassworks Factory is located in northern Bohemia in in Nižbor, and makes a 24 percent leaded crystal that is chosen for official state gifts. In addition to garnet and crystal beads, Czech jewelry stores also sell a wide election of glass beads, so if you're interested in beading as a craft form, be sure to make some time for bead shopping.
Czech Folk Arts and Crafts: Easter Eggs and Pottery
As a child, my family's Easter traditions involved laborious hours of making hollowed-out Easter eggs. Using straight pins, we poked tiny holes in each end, then blew out the contents and washed and dried the hollow eggs to prepare them for paintings. The grown-up Czech art form involves a wax-and-dye process, after which the eggs are sealed with hot wax at each end. These are, of course, extremely fragile, so only buy them if your travel plans will allow them to survive. At home, try to display them in something other than direct sunlight, which causes the colors to fade. The colorful folk costumes of the Czech people are hardly worn in everyday life anymore, except, perhaps during folk festivals. But blouses, children's clothing, hats, handkerchiefs, table linens, and dolls costumed in folk attire contain some of the traditional Czech embroidery and workmanship.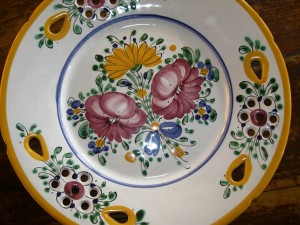 Hand-crafted plates, vases, bowls, and jugs bearing brightly colored floral patterns and folk designs are reasonably priced and pretty, and available virtually everywhere. So are beer mugs, and while these firmly fall under the heading of Euro-kitch, the fact is that Czechs claim the invention of Pilsner, and drinking beer is practically a national sport here. So if ever you're going to get one of those ornate beer mugs with the scenes in relief and the metal tops, it makes a certain amount of sense to do it here.
Czech Spa Gifts and Body Care Products
The Czech spa industry has always attracted visitors from abroad, even during the Iron Curtain days. The country has a long tradition of spas, and a number of local manufacturers make herbal and natural body oils, bath products, potpourri, handmade soaps, and cosmetics. Manufactura and Botanicus are two names to look for; both have multiple outlets in Prague. So-called spa wafers are a 150-year-old tradition. The thin wafers are covered with a mix of sugar, hazelnuts, vanilla, and cinnamon. Originally developed as a treat for spa goers, they are now available virtually everywhere: You can buy them at groceries and bring them home, or enjoy them fresh from street vendors.
Practicalities
English is widely spoken.
Be on alert for pickpockets around the heavily touristed areas in Prague's historic center.
Copyright 2012, Karen Berger. All rights reserved.